Προσφορά!
Σαπούνι ξυρίσματος / Shaving soap
8.00€ – 12.00€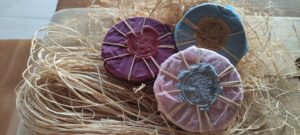 Shaving soap with buffalo milk
Many scents to choose from
Σαπoύνι ξυρίσματος με βουβαλίσιο γάλα
Σε μεγάλη ποικιλία αρωμάτων
Shaving soap with buffalo milk
Περιγραφή

Σαπούνι ξυρίσματος με βουβαλίσιο γάλα. 
Shaving soap with buffalo milk.
Small batch artisanal shaving soap
Our shaving soap is the perfect choice for those looking for a luxurious, natural shave experience. It's made with 100% natural ingredients, free of synthetic stearic acid and free of animals. The rich lather will leave your skin feeling hydrated and refreshed after every shave. It comes in sustainable packaging that helps reduce your environmental impact.
All shaving soaps are handcrafted and natural, made using only the finest cocoa butter and castor oil, without any stearic acid or any other chemical byproducts. They features the benefits of mountain tea and buffalo milk, allowing your skin to remain nourished and moisturized throughout your shave. With many different scents to choose from, you're sure to find the perfect bar of soap to meet your needs.
Our shaving soap lathers up easily and it needs a very little amount to create a thick, protective and creamy lather.
But the most powerful point of the soap is the post shave feel. Leaves face hydrated and smooth with no need of using an aftershave balm or lotion, away of redness and irritations.
Buffalo milk produce an unbelievable shaving soap with an easy, creamy and slick lather, suitable for every skin type and especially for the sensitive.
Benefits come from ingredients:
MOUNTAIN TEA contains high levels of antioxidants, polyphenols, and essential oils, including flavonoids
BUFFALO MILK from Greek water buffalos. It is the most fatty milk and so these fatty acids reacts with the lye, producing a friendly and gentle for the skin soap.
VEGETAL GLYCERIN is an odorless liquid produced from plant oils. Glycerin is a moisturizer and provides softening benefits for the skin and amazing glide to soap.
Finally OLIVE OIL is the gift of Greek nature to the whole world. 100% Extra Virgin Olive Oil is the best Olive Oil on the world and now it is into a shaving soap.
°°°°°°°°°°°°°°°°°°°°°°°°°°°°°°°°°°°°°°°°°
Benefits of milk soaps:
You may think skin care starts after you shave, but if you choose milk soap you can care for your skin while you shave.
There's a long history of using milk-based soaps for skin care.
The pH of milk soaps is very close to the natural pH of human skin, resulting in a naturally gentle product, even people with sensitive skin and eczema find milk soap is far less harsh and drying than most ordinary soap products.
Also buffalo milk soap naturally contains milk fats, triglycerides and vitamins and minerals which help moisturize the skin. Buffalo milk soap contains natural glycerin, an effective moisturizer, which is usually removed by most commercial soap manufacturers and sold as a separate product.
Επιπλέον πληροφορίες
| | |
| --- | --- |
| Βάρος | 0.1 kg |
| Weight | 50gr., 80gr. |
| Scent | FROSTY LEMON, LIME, PORTOKALI, MANTARINI, LEVANTA, ANANAS, MANGO, EVE |